And so I'm living with my mother again. I haven't mentioned it much because A. it's humiliating, and B. it's mortifying. My mother and I, like most mothers and daughters, have an interesting history. My parents divorced when I was 13, leaving me to live alone with her full time. My mother quickly established our new roles - she would revert to being a teenager, and I would be responsible for her daily happiness. In other words, complete role reversal. It was an excellent arrangement for her.
Not to say that I didn't get to be a teenager - I worked very hard to meet every underachieving teenage stereotype ever invented. My primary goal during my adolescent years was to get as far from her as humanly possible without ending up in juvi. I rebelled against our role reversals with every fiber of my being. It was no coincidence that I moved out the day after my 21st birthday. And then went on to travel around the world. Twice.
Don't get me wrong, I love my mom. I really do. In many ways she is my best friend. Perhaps we are just not meant to live together. We get along swimmingly when we have our own abodes. Living at home again seems to be bringing out my inner teenage rebel. I find myself trying to sneak out without her knowing. I tiptoe around the apartment so she can't hear what I'm up to. I close the door to my room even when I'm just sitting around watching my goldfish troll for food.
At first I felt guilty for doing this, but then I realized why I was behaving in this manner. My mother was, and still is, the ultimate master in getting others to do things for her. After 30 some years, I have come to dread the words "While you're up, do you think you could...." with the white hot intensity of a thousand suns.
"While you're up, do you think you could
- do my laundry. And make sure to separate the colors.
- bring me a blanket. No not that one, it doesn't match my socks.
- fetch me my slippers. No not those. They don't match my blanket.
- change the channel, no I don't like that show. Keep going. I don't like that either. Go on.
- get my book I'm reading, it's around here somewhere.
- give me a ride to this place. I don't know where it is. Where are your directions? And gas up the car while you're at it.
- carry this 100 pound thing around for a while so I can figure out where to put it.
- work out today's prime lending rate.
- find that thing, you know, that thing I was looking at yesterday.
-
and my all time favorite

:
get me a glass of ice water. But not too much ice!
"

You get the idea.
It's harder to get annoyed now that she is using a walker and is getting -
dare I say it - old. But being that this is how she's been since I could navigate stairs, it's now one of those old wounds that festers with age. It's hard to keep a smile on my face after so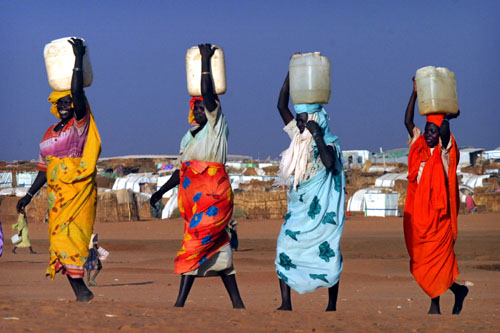 many years of indentured servitude. I try to be sweet when she interrupts my homework* so I can help her figure out the remote control yet again; or so I can search around the apartment for her glasses only to find that she is sitting on them; or so I can get her yet another glass of water; but it's not easy. I've fetched more water than an African village girl.
I'm hoping she will calm down soon. Perhaps she's just making up for lost time. It's been many years since she's had me here at her beck and call. I still remember her first words to me when I came home from Australia after two years. There she stood waving wildly at the bottom of the escalator at JFK - I had been traveling for 28 hours from Sydney - I had spent the better part of the last two years driving on the wrong side of the road - and her first words to me were, "Welcome back! Here's the keys to the car, thought you'd like to drive us home."
At least this place is beachfront.
*No, this isn't the teenage me talking, I have homework! I'm a grad student now, thank you very much.